The Albany Symphony's genre-bending new music fusion group
See Dogs of Desire and other amazing acts at the 2023 American Music Festival: Convergence celebrates the latest in musical innovation, featuring an array of premieres and performances in exploration of Black American art forms. As part of a three-year collaborative project, Convergence brings together the Symphony, an array of performers and organizations from across the Capital Region, and nationally acclaimed artistic partners to engage in various Black artistic disciplines relating to the breadth of American culture, new music, and meaningful community-building work. Guests artists include our Convergence Curating Artists: Renowned jazz violinist Regina Carter, Afro-Caribbean Choreographer Adia Tamar Whitaker, and multidisciplinary poet, dancer and spoken-word artist Marc Bamuthi Joseph.
Funded in part with generous investment from the Carl E. Touhey Foundation, Convergence builds broad awareness of our contemporary world while working to expose and eliminate bias through artistic inquiry and musical creation.
JUNE 7 TO 11 | NEW YORK CAPITAL REGION FESTIVAL WEEK
JUNE 29 TO JULY 3 | FREE OUTDOOR CONCERTS ACROSS NEW YORK STATE

Dedicated to exploring and celebrating the intersection between the raucous terrain of American popular culture, traditional Western instrumental music, and music traditions from around the world, the Albany Symphony's 18-member new music ensemble, Dogs of Desire, has commissioned and performed more than 200 new works by America's most exciting emerging composers. 
Founded by GRAMMY®-winning conductor David Alan Miller with members of the Albany Symphony in 1994, Dogs of Desire has gained a national reputation as an incubator for the most inventive musical creators of our time, extending to collaborations with filmmakers, choreographers, Ghanian percussionists, Broadway stars, Rock-n-Roll icons, and a robot builder.  
The group is featured annually at the Albany Symphony's American Music Festival, an international hub for new American music, and has performed in New York City, Washington D.C, and throughout New York State. The group's most recent recording, of Michael Daugherty's Woody Guthrie homage, "This Land Sings," was released in May, 2020, on NAXOS Records.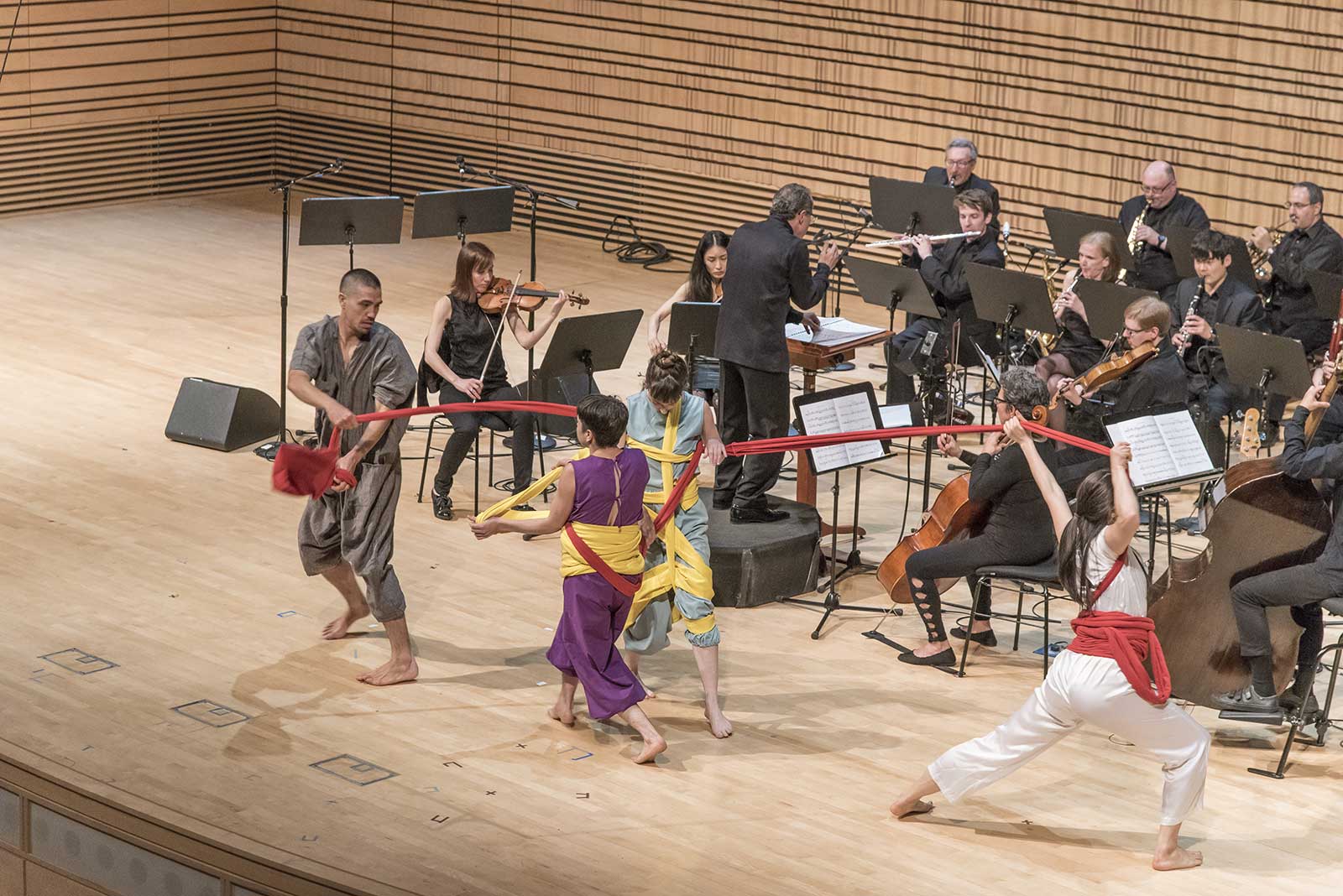 Projects
Watch one of our latest works below with composer Carlos Bandera, from our project, Hot w/Mustard.
Alexis C. Lamb – "Look Through"
"Look Through" was initially inspired by a quote from Henry David Thoreau's Walden: "Could a greater miracle take place than for us to look through each other's eyes for an instant?" 
Annika Socolofsky – "Light of a Clear Blue Morning"
I've chosen to arrange Dolly Parton's "Light of a Clear Blue Morning" for the Dogs of Desire–an optimism anthem if there ever was one! The symphony meets pep band in this celebratory bop. As Parton puts it, "I can see the light of a clear blue morning, and everything's gonna be alright. It's gonna be ok."
Carlos Bandera – "The Vast Hour"
All essences of sweetness from the white
Warm day go up in vapor, when the dark
Comes down. Ascends the tune of meadow-lark,
Ascends the noon-time smell of grass, when night
Takes sunlight from the world, and gives it ease.
Mysterious wings have brushed the air; and light
Andre Myers – "Pulp Anthem: Reflected Glory"
Pulp Anthem: Reflected Glory is a nurse's anthem. I refer to it as a Pulp Anthem because I composed it quickly, and because it is meant to be broadly distributed, like the old pulp paperback books of the twentieth century.